Thursday, March 22, 2007
Possible surprise in Zagreb?
Only a day before the
Croatia
- Macedonia match from the Group E of the EURO 2008 qualifiers
Macedonia always in the mood for surprises
This is probably the most important match for Macedonia in the qualifiers so far. Coming back from Croatia without points will definitely erase all wishes and chances about qualifying for the EURO 2008. That's why all members of the Macedonian national team are extra motivated for this match. But it will not be easy. We all know that. It will not be easy to play against Croatia - former bronze team, currently ranked 12th in the World, full with great players... and definitely one of the biggest factor of their success on home ground is playing on Maksimir - the Croatian impregnable fortress. Croatia has never lost an official match on that stadium. The only lost match was the 0:2 friendly match with France in 2000. On the other 34 matches played on Maksimir, Croatia have 24 wins and 10 draws with fantastic 80 goals scored and only 20 conceded.
But as the Croatian coach Slaven Bilic said, this row will end one day. So the Croatian players must be careful and shouldn't be so relaxed. Croatia shouldn't be so sure in their win because Macedonia is always able to surprise, especially on away matches. Here are the last results of the matches played away from Macedonia:
Netherlands-Macedonia 0:0
Ecuador- Macedonia 1:2 ( Neutral ground )
Turkey-Macedonia 0:1 ( Neutral )
Estonia-Macedonia 0:1
England-Macedonia 0:0
Andorra-Macedonia 0:3
Albania-Macedonia 0:1
As you can see Macedonia is not defeated on the last 7 matches played away from home and has conceded only 1 goal.
Macedonia are always playing extra motivated against the big teams and are always in the mood for making surprises and spoiling the plans. The Macedonian national team is always making at least 2 surprising results on the matches with bigger teams. Is this match away to Croatia going to be the 2nd surprise for Macedonia in this qualifiers after the 0:0 away to England?
The coach of the Macedonian national team, the Slovenian born with Croatian origins - Srecko Katanec, has some problems with the missing of Igor Mitreski and Robert Petrov. Aleksandar Vasoski and Robert Popov are expected to substitute them so the probably the Macedonian starting 11 will look like this:
- - - - - - - - Nikoloski - -- - - - - -
- - Noveski - Sedloski - Vasoski - -
Lazarevski - - - - - - - - - - Popov
- - Shumulikoski - A.Mitreski - -
- - - - - - - - Pandev - - -- - - - - -
- - - - - Naumoski - Ristic - - - - -
So far Macedonia and Croatia have meet 4 times and Croatia have been better on 2 of those matches. Here are the results and scorers:
1998, Zagreb, ECQ: Croatia-Macedonia 3:2 (Suker 16 , Boban 45,70 - Ciric 2, Sainovski 55)
1999, Skopje, ECQ: Macedonia-Croatia 1:1 (Hristov 80 - Suker 19)
2003, Sibenik, friendly: Croatia-Macedonia 2:2 (Maric 35, Andric 72 - Sedloski 10, Toleski 60)
2004 , Skopje, friendly: Macedonia-Cro 0:1 (Klasnic 33)

We should all expect great match on the Maksimir stadium in Zagreb because of the hot atmosphere between the player and the fans on both sides. Let me raise the warm the atmosphere a little more with the photo of Karolina Goceva, Macedonia's best
(and the hottest)
female singer, who visited and gave support to our boys on their trainings in Ohrid.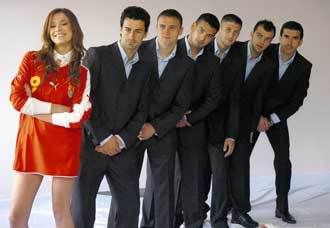 Labels: Macedonian National Team
Register, receive bonuses and bet on the Macedonian league at 10Bet, bwin, Expekt or Pinnacle