Saturday, February 24, 2007
Goran Slavskovski will play for Macedonia
One of the most talented young players in Europe to play for Macedonia
Finally confirmed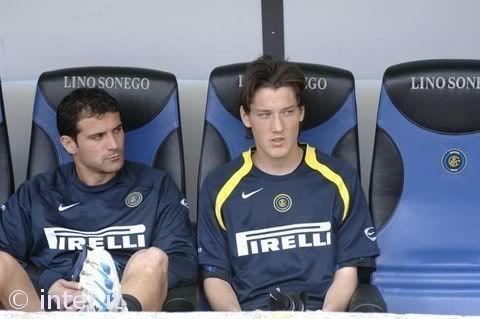 After a year of doubts, meetings and begging, finally Slavkovski's family confirmed that he chose the Macedonian national team. The coach of the Macedonian U21 national team confirmed that Goran Slavskovski agreed to take part of the U21 friendly match against Albania that will be played on 28, March.
Everybody wanted Slavkovski
Swedish-born by Macedonian parents Goran Slavkovski is raising heads all over Europe, already earning the nickname "Ibrahimovic the Second." Born April 8, 1989, in Skravlinge, Sweden, the 17-year old Slavkovski shares much in common with Serie A's Zlatan Ibrahimovic. For starters, both players began their careers with Swedish side Malmo FF, and before that Rosengard club FBK Balkan, and both players have family origins in the former Yugoslavia. But this is just the tip of the iceberg as Slavkovski, like his childhood role model Ibrahimovic, currently finds himself at Italy's FC Internazionale Milano, hoping to further develop the goal-scoring prowess he has shown thus far. The fight for Slavkovski also transcended the European club level, with recent media outlets reportedly alleging a "war" between the Macedonian, Swedish, and Croatian football federations to woo the youngster to their respective national teams. Slavkovski has stated it would be an honor to play for Macedonia, and even received an official invitation from Macedonia's Prime Minister to discuss his possible future with the FFM.
Labels: News and Information
Register, receive bonuses and bet on the Macedonian league at 10Bet, bwin, Expekt or Pinnacle